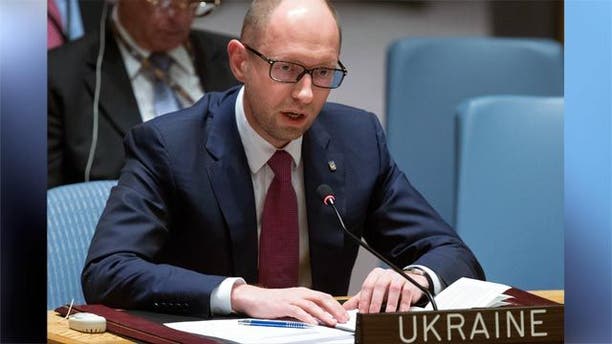 American diplomats are warning Russia that it will face "very serious" consequences by Monday if the country does not stand down on Ukraine, as they scramble to prevent Moscow from annexing the disputed Crimea region.
Secretary of State John Kerry, in a last-ditch bid to convince Russia to cooperate, flew to London on Friday to meet with Russian Foreign Minister Sergei Lavrov. He spoke briefly with Lavrov over the phone in advance of the meeting, and according to the State Department reiterated the administration's concerns about the upcoming referendum on Sunday — when Crimea residents are set to vote on whether to join Russia.
That referendum has the potential to significantly escalate the crisis. Asked Thursday what would happen if Crimea votes to leave Ukraine and the Russian government approves it, Kerry vowed "a response" to the referendum itself.
"In addition, if there is no sign of any capacity to be able to move forward and resolve this issue, there will be a very serious series of steps on Monday in Europe and here with respect the options that are available to us," Kerry told a Senate panel.
That message was echoed at the White House and during a meeting of the U.N. Security Council.
U.S. Ambassador to the U.N. Samantha Power decried the looming referendum as potentially "destabilizing."
"Sunday's referendum in Crimea is hastily planned, unjustified and divisive," she said.
Ukraine Prime Minister Arseniy Yatsenyuk, in New York, declared at the U.N. meeting that Crimea will remain a part of Ukraine.
Russia's U.N. ambassador, though, remained defiant, blasting those who dispute the legitimacy of Sunday's vote.
"What is unacceptable is manipulating individual principles of international law," Vitaly Churkin said, arguing that the Crimea referendum is a matter of "self-determination."
Asking a question that many nations have also asked of Russia, he said: "Why such blatant interference in the domestic affairs of a state?"
At the White House, spokesman Jay Carney echoed Kerry's warning. "Should Russia continue down the path that it is currently on and move forward with an attempt to annex Crimea or to in other ways continue to violate Ukraine's sovereignty, there will no doubt be additional costs," he said.
Kerry said he planned to make clear how high the stakes are when he sees Lavrov in London.
"My hope is that they will come aware of the fact that the international community is really strong and united on this issue," he said. He said he had spoken to Lavrov before the hearing and that he hoped "reason would prevail." But he stressed there was no guarantee of that.
Kerry and Lavrov have spoken almost daily as the Ukraine crisis has unfolded but have yet to find any common ground.
He suggested that he would be pressing Lavrov for Russia to accept "something short of a full annexation" of Crimea but did not elaborate on what such a scenario might entail.
Still, Kerry sought to strike a conciliatory tone as he headed to meet Lavrov, telling lawmakers at a House hearing later Thursday that Ukraine should not have to choose between allying with the Western world and Russia in the East.
"We believe Russia has interests and has an ability to be able to be important to the development of Ukraine, and so does Europe," Kerry told the House Foreign Affairs Committee. "And there's no reason why they shouldn't look in both directions. We do. We look East, we look West, we look North, we look South. And I think it's very important to be careful about those kinds of limits."
In the meantime, Congress won't be able to authorize aid to Ukraine until after March 24 amid several Republican disagreements.
The Senate was unlikely to vote before leaving for recess Thursday evening on a bill approving $1 billion in loan guarantees to Ukraine, sanctions on Russia and International Monetary Fund reforms. Four Republicans backed it as the Foreign Relations Committee voted 14-3 in favor Wednesday.
At the same time, House Speaker John Boehner urged the Senate anew Thursday to adopt House-approved legislation for the loans, without sanctions or IMF provisions. But many House Republicans reject expanding the IMF's lending capacity, which every other major country has approved. They say it increases U.S. taxpayer exposure; the counterargument is it immediately releases money for Ukraine.
Other Republicans oppose paying for the loans with unused military money.